Case Study: Dr. Smoothie Rebrand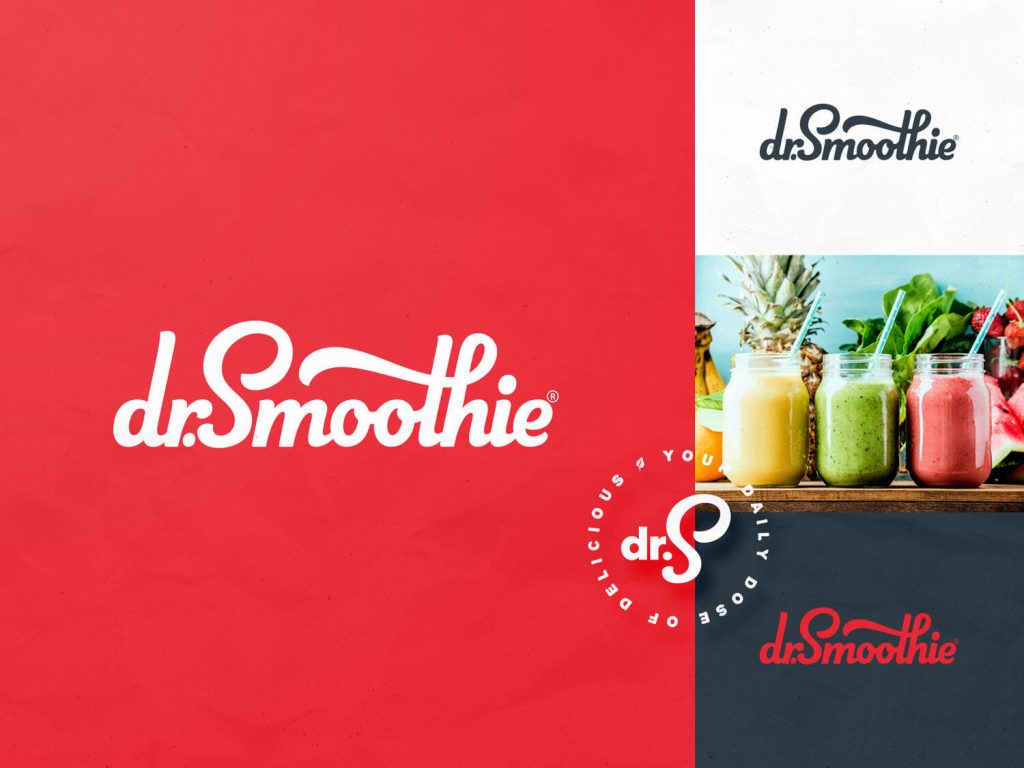 While Dr. Smoothie has been a staple in the healthy smoothie market for more than 20 years, their brand identity was failing to properly represent the freshness, deliciousness and innovation that they uniquely bring to bear in their full-line of beverage products. The time had come to signal a change in ownership and a fresh commitment to creating quality, healthy products that today's consumers need.
This past fall, Bevolution Group, with offices in California, Chicago, and Florida, hired us to help them reimagine and refresh their flagship brand.
Working with their marketing team, we went through an extensive on-site brand strategy session in which we clarified and defined the audience, brand personality, competitive advantages, as well as the emotional and functional product benefits. We then distilled it all into a single Brand Essence statement: Drink Life In. This later evolved into the tagline Your Daily Dose of Delicious.
One of the primary drivers for how the refreshed brand would look and feel was the Brand Archetype of Explorer. Throughout our discovery process, we collectively decided the Explorer persona best represented the ethos of the brand: adventurous, resilient, upbeat, non-conformist and independent. This proved to be a cornerstone of our voice and design decisions throughout the project.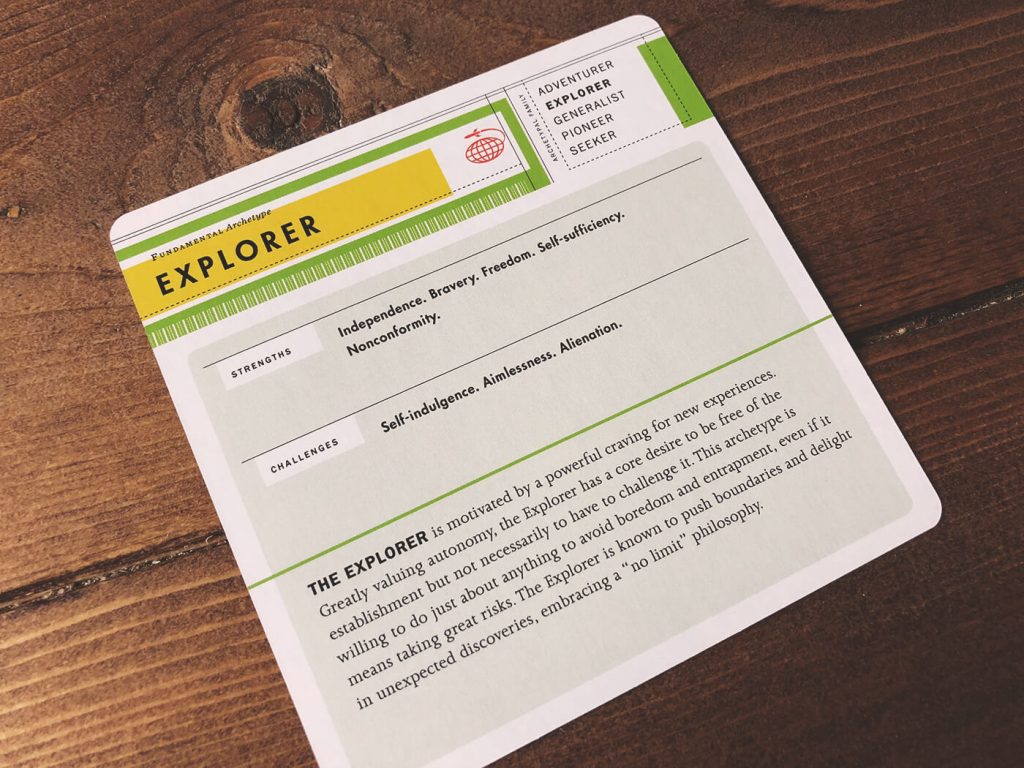 When it came to the logo and visual identity, we knew we wanted to stay with the color red and within the script family for type in order to take advantage of the brand equity that had been built in the marketplace for the past 20 years. We also knew the brand deserved custom handlettering, not a pre-built font.
Here are the first-round concepts we presented to them:

We worked through 3 rounds of feedback, revisions, and iterations before landing on the final logo. Overall, it was a quick and painless process to get to the new logo finalized. Here's a before and after look:

From there we started exploring brand architecture, and how the Dr. Smoothie sub-brands would fit under the parent/umbrella brand. This included some rough label mockups as we explored several visual directions that were based on our brand strategy brief.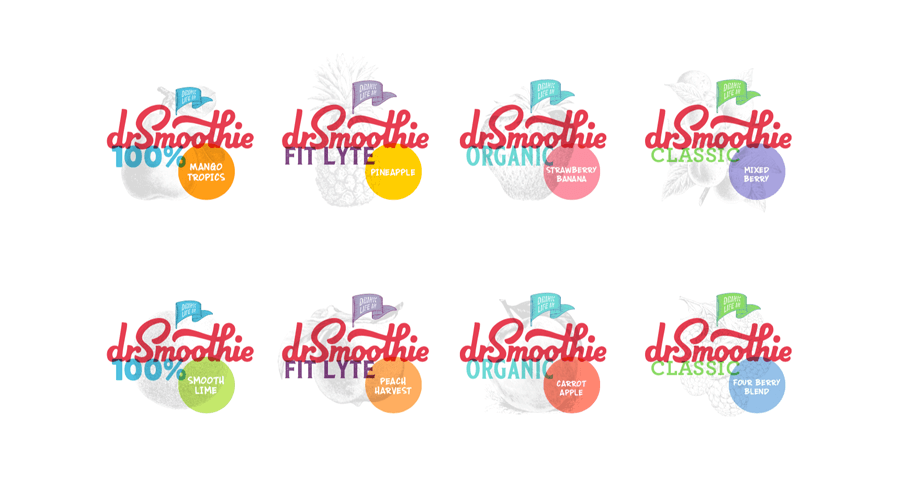 We also provided several design directions for the packaging art direction and worked through some revisions and iterations with the client's full internal team as we progressed toward the final label design.
After a few rounds of design exploration, we moved settled on a general look and feel for the labels, along with a flexible yet cohesive design framework for executing the sub-brands and label designs for the variety of Dr. Smoothie products. Here's a mockup of the final label designs: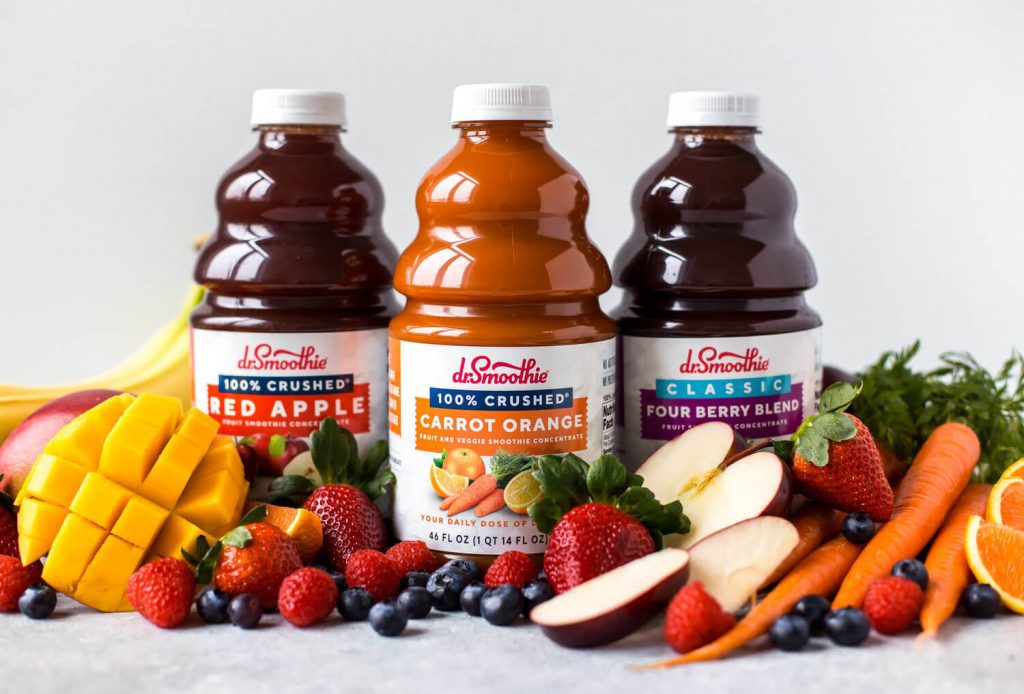 From there we were ready to start creating all sorts of brand collateral, from tradeshow booths to in-store signage and display systems to a website homepage and some merchandise. Here's a photo of the tradeshow booth we designed for them:
And here's a sampling of all sorts of other materials we designed and developed for them, including brochures, sell-sheets, posters, ad campaigns and more.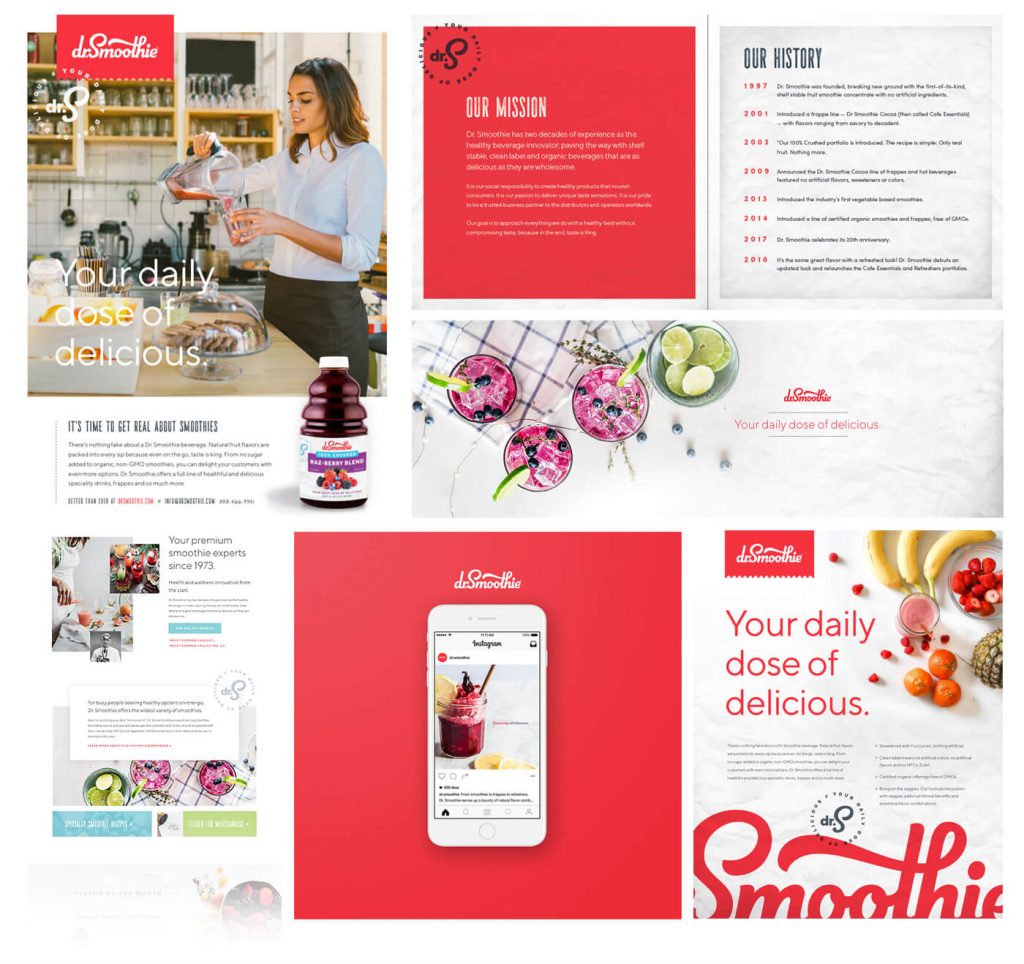 In addition to the primary logo, we created a secondary mark that could be used throughout the new materials as something of a stamp or badge. This fell right in line with the Explorer archetype and gave them an opportunity to use an interesting design element to reinforce the brand personality in creative ways. Here's how the secondary mark  progressed, and where we landed with it:

Throughout this process, we created and continued to add to the Brand Style Guide, which serves as somewhat of a brand bible for all the essential brand information and execution guidelines. This gave the client a living document that ensured all future materials can be crafted consistently and remain on-brand, ensuring the Dr. Smoothie brand awareness and equity continues to gain momentum. Here are a few quick screenshots from their robust brand style guide:
We had a blast working on this project and owe huge props to a fantastic client. Toby Campbell and Ashlee Swider led the charge for Bevolution and they were a pleasure to work with throughout the process, consistently bringing a high level of professionalism and insight. It takes a team to do great work, and we were that with them.
Overall, it was exciting to craft a brand that perfectly captured what made Dr. Smoothie unique and let it's personality shine through in all materials and in any medium.
The next time you see Dr. Smoothie on the shelf of Whole Foods or WaWa, or available at your local cafe, bakery or gym, give them a try. When the product + brand deliciously match, it makes for an engaging outcome for consumers.

What the client had to say when the dust settled:
Top marks to WonderWild for their fresh creative approach. They live and breathe creative development and are passionate about bringing the right brand assets and visuals to life. What sets them apart though, is their customer focus. Throughout our brand refresh project, they excelled at being responsive, flexible and collaborative throughout every phase.

-Toby Campbell, Director of Marketing, Bevolution Group
We are a brand identity + design studio that helps brands level-up through emotionally compelling design. Want to talk about your brand? I'd love to hear if we can help you create meaningful differentiation:
seth@wonderwild.co.
Let us help your brand become the best it can be.